Treasure Island Resort
Treasure Island is a brand new resort directly on Baloy Long Beach. It has 14 rooms allocated as: 5 pool front, 1 family room,1 Suite and 7 spacious standard rooms. Please note that this is primarily a resort dedicated for singles and couples. Most rooms are designed for two persons only, the Suite can house a third person and the family room up to four.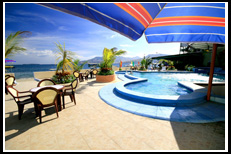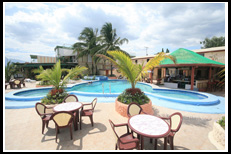 They also have a huge ultramodern swimming pool and wide private deck area with enclosed seating for cocktails or dining. The pool has a 10 person Jacuzzi along with a swim-up bar and 2 seating areas for drinks or snacks. The author of "Subic Bay Travel and Dive Guide" quoted this as "Best Pool Bar". The seawall secure your privacy without blocking the beautiful view of Subic Bay or the Zambales Mountains.
They boastly features Dryden's menu. Dryden's has been a Subic fixture for 20 years. Take a peek at the extensive menu – available 24/7 days a week. The Buccaneer bar is a meeting place for guests from the various hotels in the area as well as local expatriates. It has 2 LCD TVs showing sports till late and first run movies till dawn. They have one of the widest arrays of spirits on the beach. Flaunting 4 slush machines with frozen margaritas and strawberry daiquiris always available and 2 different weekly special 'smoothies'. The island resort have an extensive range of tropical cocktails at very reasonable prices.
They are the ONLY resort in the Baloy Long Beach with private secure parking.
Accommodation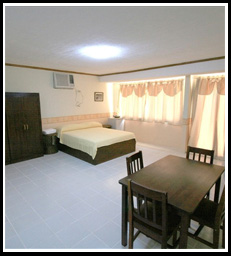 Enjoy the resorts' comfortable accommodations, friendly, laid back but efficient service and great recreational facilities at reasonable prices, visit Treasure Island Resort. Subic Bay, Philippines' newest and most exciting getaway.